Fresh Fellows Program at the Healthy Hearts Youth Garden
FRESH FELLOWS Program Begins Wednesday, April 5th!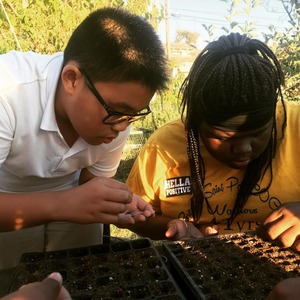 The Fresh Fellows Food Justice Youth Internship at Dover Street Edible Park starts Weds., April 5th (8 weeks, every Weds. afternoon).
We are accepting youth applicants until March 27th.
Graduates get a $200 stipend and invitation to apply to work at the Phat Beetz Youth Pickle and Catering Co.
Follow link to apply: http://tiny.cc/9ad0jy
Please email hilltoveo@gmail.com with any questions.
***
The Healthy Hearts Youth Market Garden, the nation's first clinic based vegetable garden, is located on Dover St. between 57th and 58th St. in Oakland.  The garden is part of the Dover St Edible Park and houses Phat Beets Produce's Youth Food Justice Project "Fresh Fellows"

We have work days every Wednesday and Sunday. Work days are open to anyone interested in learning about gardening and growing your own food!
Garden Hours:
Wednesdays 2:00pm-6:00pm
Sundays 11-2pm
Since 2009 Phat Beets Produce and the Dover St Neighborhood Group have been transforming the 1/4 acre perimeter of Dover Park from weeds to a free food forest garden that produce over 3000 lbs of fresh produce (including 30+ fruit trees) each year to share with the community through free clinic based farm stands. 
In addition the Dover St. Edible Park/Healthy Hearts Garden hosts a youth food justice program "Fresh Fellows" with teenage patients from the Healthy Hearts Clinic that are at risk of diet related illnesses such as Heart Disease and Type II Diabetes.  Since 2009 we have trained over 60 youth leaders in the tactics of building  just food system by leading a healthy lifestyle given all the barriers they face.  In 2014 we will launch a youth pickle business to create self-sustaining jobs for graduate of our youth program, as the say goes "nothing better stops a bullet than the a job"